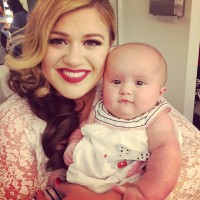 With the help of her adorable daughter, Kelly Clarkson is starting to feel a little festive. The singer's little River Rose joined her on the set of her new music video for 'Wrapped in Red' this week.
Clarkson took to social media on Monday (Oct. 6) to share the sweetest photo of herself and River. In the pic, Clarkson's sporting a white lace top to help her get in the Christmas spirit, with jolly red lipstick to complete the look. She shows off long locks, worn down and curly, while River Rose dons a dress with an animal on it, smiling in Mommy's arms.
Clarkson captioned the photo: "River is visiting me on the set of my new music video shoot for 'Wrapped in Red'!" with the hashtag #babysfirstvideo. This will be River's first Christmas. She was born in June.
The holiday music video follows a year behind Clarkson's 'Wrapped in Red' album, which features many classics. The star even paired a Christmas special with its release in 2013, and we can't wait to see how she's bringing the festive fun back. Hopefully, sweet River will make an appearance in the video!
Clarkson recently announced that fans should brace themselves for new music. In 2015, she plans to release a new album, and a surprise guest or two could be in the works!